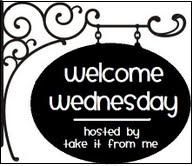 Welcome Wednesday! And new followers :) And also to anyone stopping in from the above Blog Hop - I hope you decide to stick around with me and watch me grow. Regardless of who or what (Wednesday.. inanimate object?) you are, I hope you're all having an absolutely beautiful morning. It's a not-so-hot mess right now in my neck of the woods, but my iPhone has promptly informed me that it's going to go up to 99 today. Take a look at that for the week:
(Please don't privately stalk me. You may publicly do that - I'm all for love - but no private-eye status. )
One of the requirements for this little blog hop to my side of the pond was to have a post about it. But while you're here, I may as well write about something!
I love Wednesdays. Truly. They've been my favourite day of the week for as long as I have been able to remember. I even wanted to name my future daughter Wednesday - that idea got shot down as I grew older, but the fact remains. I love Wednesdays. I also enjoy that I have Youth Group on these days. We're doing a series on relationships via the Bible - non-Christian, Christian, romantic, family, and Godly ones. I'll be missing it today to spend time with my friend Gabbie for two days (the one who's book I edited - by the way, she
just
signed the publishing release! How awesome is that!), but I can't wait to go back next week to cover more relationships. Our lives center around relationships - to people, to objects, to whichever God we do or don't believe in - and it's so important to understand them. And if you're a Christian, to apply the Bible as best you can to them.
But yes, I adore Wednesdays. What else do I adore with a W? Hm... I like watermelons.
And (red) washing machines.
And walruses. They're so... masculine. ?
And witness protection programs.
No, just kidding about that last one. But they are wonderful for those who need them. Thank you for stopping by! I hope to find a bunch of new blogs to read :)