Do you like my drawing just for this post? LOL.
That's right.
Nobody doesn't love weight loss - I'm sure everyone is a big fan.
Though ladies and gents, it's not always about weight loss, but fat loss, that excites me.
The past few days I've been going to a gym,
and considering those were free passes and I'm too broke for a membership,
I've been doing exercises in my apartment the past two mornings.
Plus, I've changed up my eating habits and started to incorporate more fruit, salads, and water.
Results already?
Yesssirrrr.
I see muscle definition starting in my arms and upper abs,
my obliques and hips are slimming down.
And I have more energy, if that was even possible.
And my scale even tipped a bit to the left.
It feels really good.
So I was wondering for those of you who do work out,
can you suggest arm and back exercises for me?
University gave me that disgusting chub that pokes out from your bra,
and I hate it. I know a few basic exercises for the upper back
and I need some for my lower back as well.
As for my arms, I always had nice arms from my excessive
push-ups, tri dips, chest/shoulder exercises, planks, etc.
But the past two years I've seriously fell off the nice-arms bandwagon.
They jiggle like a mountain of jello.
So I'm still learning new moves for them!
Help :)?
And I was also wondering for those of you who want to start working out,
if you wanted me to post regularly exercises and eating tips for you?
And just in general ways I'm getting healthier?
Let me know - there's a poll on this post.
My goal for this week... is to do one twenty-minute ab exercise, one ten-minute arm exercise,
and one ten-minute leg exercise every morning.
Do you have a goal?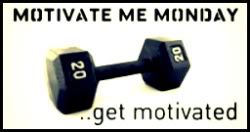 Would you like to see fitness & health tips on the blog?